Welcome!
Our Region
The North West Region is part of Handbell Ringers of Great Britain, whose aim is to promote tune ringing on handbells by organising activities and providing support and advice for its members.
The Region covers Cumbria, Lancashire, Merseyside, Greater Manchester, Cheshire, parts of Derbyshire and West Yorkshire, North Wales, the Isle of Man and Ireland.
Our activities are organised for members of the Region, but there's a warm welcome for prospective members so if you would like to try out one of our events, contact our Secretary, Chris Ellison.
Ringing in the North West Region
Jubilee Bears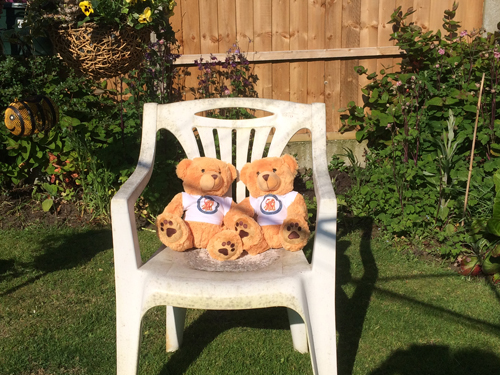 Introducing the Jubilee Bears - Norbury and Ashton
You may have read in 'Reverberations' about the teddy bears which are to visit each Region of HRGB during this Golden Jubilee year. We now have two bears in the Region, named Norbury and Ashton, and we hope that one of them will be making its way to you at some point over the next few months.
The names were chosen as the first registered team of the HRGB was Norbury and the first National Handbell Rally was held at Ashton Grammar School.
This is what we would like you to do with your fluffy golden visitor.
The aim is that between them, the teddies will visit every team and independent member in the Region, and be photographed taking part in an activity – a performance, a practice, some other occasion – the choice is yours.
When you have your photographs, please select one and email it to Jeanette Jenkins, our webmaster, who has kindly agreed to collate them and put them on the Region's website. Please don't send more than one photograph – Jeanette is the collator, not the decision-maker!
Jeanette's email is This email address is being protected from spambots. You need JavaScript enabled to view it. . When you send the photograph please include the team / member's name and brief details. Please also show your bear's mileage while it is with you - we would like to total up their 'Bear miles' on their tours around the Region.
Members of the Committee will be mainly responsible for getting the bears around the Region, but if you know that you can pass your bear on to another team or independent member personally, please contact one of the Committee members – any help will be gratefully received!
SOME HINTS ABOUT BEAR CARE:
· Do not feed them anything sticky / messy / highly coloured. Or anything at all, really.
· Feel free to dress them up for their photograph, but please don't sew things onto them – bears don't like needles.
· Don't rely on them as substitutes for team members, especially at performances – bears are not good at counting and are rubbish at turning pages. This may mean they'll fit in well, but even so …
· Don't let them conduct – it will feed their egos and the last thing we want is a couple of little furry divas wandering around the Region.
· ON NO ACCOUNT MUST THE BEARS BE CONNECTED TO A MAINS ELECTRICITY SUPPLY. It makes them smell funny.
National Rally Exeter 2017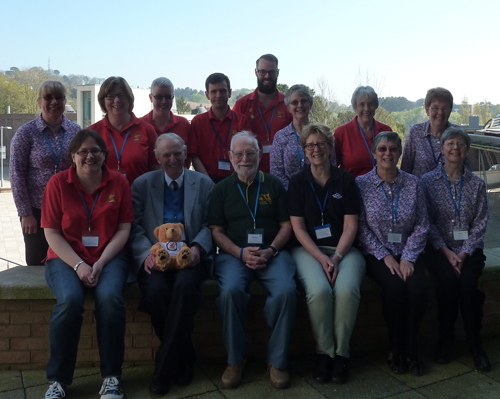 The National Rally Exeter 2017
The Golden Jubilee celebrations got off to a very sunny start at the National Rally held at Exeter University. The anniversary year was officially launched at the AGM when our NW President, John Partington, joined several other founder members of the society to ring an opening chord.
Beth, our Chairman, received one of the little bears who will hopefully be visiting all our teams on his travels round the region during the year. Another notable event was the conferring of Honorary Life Membership of HRGB on Simon Rennie from Maghull, in recognition of his many years service to handbell ringing both in our region and nationally.
During the packed weekend we were treated to: concert performances by the regional teams from East Anglia and the South East; a wide variety of workshops and talks; masterclasses, including one led by Kate Sawallisch; plenty of delicious food; excellent accommodation; great company; a busy rally ringing session where 20 teams, Kinder among them, rang individual pieces interspersed with massed ringing. There was even time for a group photo of over 300 delegates taken on the steps outside the Great Hall of the University.
At the Concert on Saturday night Maghull were the NW region's representatives and gave a superb performance of three of their favourite pieces of music.
This very enjoyable event closed with the ringing of a final chord by those taking part. It had been an excellent weekend which had everything to make it a fitting celebration of 50 years of HRGB.
2017 Spring Rally - Bury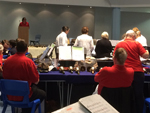 HRGB Northwest Rally
Bury Grammar School
Saturday 18th March 2017
Members of 14 Northwest Teams joined for a Spring Rally at Bury Grammar School Infants Division on a wet spring day. It was an opportunity to try out the competition winning pieces written especially for the 50th Birthday of the HRGB as massed ringing. The AGM of the North West region was held and two new honorary life members, Anne Hopley and Linda Parkington were announced. The pieces the teams played ranged from William Gordon favourites to film and TV themes with everything inbetween. John Partington gave us an interesting insight into the beginning of English Handbell Ringing and the first competitions and rallies. A further article featuring his recollections is planned for both the website and Oyez, the newsletter of the Northwest Branch of the HRGB.
News March 2017

NORTH WEST SPRING RALLY
The North West Spring Rally will take place on SATURDAY 18th MARCH, 2017
BURY GRAMMAR SCHOOL, BRIDGE ROAD, BURY, GREATER MANCHESTER, BL9 0HG
All teams and individual members are warmly invited to our Spring Rally, which will follow the usual pattern of massed ringing and individual team ringing. If you can't come as a full team, don't miss the fun, come anyway - we'd love to see you! If your team has never played a solo item at a Rally before, you can choose to just join in the massed ringing, but remember that if you do decide to take the plunge, you couldn't be playing to a more sympathetic audience – every one of us has been there!
TIMETABLE- Doors will open at 10.30 am (please note – no access to either the car park or the hall before this time).
Drinks will be available on arrival.
TheFirst Rally Session will start at 11.00 am and will be followed by the lunch break. (Remember to bring a packed lunch).
Drinks will be provided.
The ANNUAL GENERAL MEETING OF THE NORTH WEST REGION will start at 1.15pm.
The Second Rally Session will follow, with a tea break in the middle.
We will aim to finish by 4.30 pm.
News

NORTH WEST HOSTS THE NATIONAL RALLY
The North West Committee has been delighted by the positive feedback it has received following the National Rally at Newton Rigg in early April, which was attended by over 240 ringers.
On Friday evening, an excellent concert by the Northern Bell Orchestra got proceedings off to a good start. Saturday was a busy day of workshops and masterclasses, and culminated in the Evening Concert. All the Masterclasses performed, and Beverley Town Handbell Ringers gave a wonderful demonstration of traditional English handbell ringing on their Yorkshire "Long Set" of over 130 bells. In contrast, Aidan Fozard dazzled us with his solo performance on belleplates.
Sunday morning was given over to a full Rally session: the hall filled with the sound of hundreds of bells during the massed ringing pieces, and individual performances by nearly 20 teams. Awesome!
Thanks to everyone who helped in the organisation of the Rally – a true North West team effort!